A guide to selecting the best photocopiers and printers for your business
Whether you need secure A4 printers for remote workers, a mixed fleet of A4 and A3 office photocopiers that can copy, print and scan your business documents, or sophisticated print-room printers and copiers that can handle high volume print runs and create high quality professional booklets and brochures in-house, our partnership with Xerox, Ricoh and HP, 3 of the world's leading manufacturers of photocopiers and printers, guarantees that Franking Sense® has a best-in-class solution that will suit your exact printer and photocopier requirements.
With so much technology available from multiple suppliers, how do you decide which copiers and printers are best for your specific needs? At Franking Sense® we have put together a simple buyer's guide to selecting printers and copiers to help navigate the process and make a balanced recommendation.
Before we make our suggestions, we can help you review your current situation with a no obligation visit. This allows our consultants to learn about your current environment, infrastructure and your long term business needs - a simple print solution, like for like replacement or a complete document management platform, providing the infrastructure for digitisation - and introduce cost saving methodologies. It is important to note that a lot of businesses acquire these products on fixed term contracts. That doesn't necessarily mean you are stuck in a contract that can't be changed. We can help you switch suppliers and contracts seamlessly so you can take advantage of any cost reductions and better suited equipment straight away.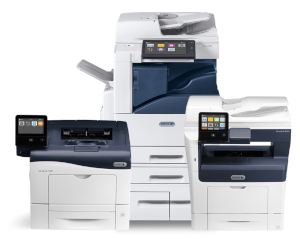 We have a wealth of industry expertise learnt over 30 years and supply the latest tier 1 printing technology available in the market at fantastic pricing. All these options are supported by our flexible finance partner, Nationwide Capital Finance Limited. Together we can tailor a hardware solution with bespoke finance options to match your requirements on budget and term of hire. In addition, we can also offer managed services that include service and hire cost in a single monthly/quarterly payment wrapped in a boutique style account management program.
The key considerations when selecting your photocopiers and printers are as follows:
Do you need a photocopier or printer?
We try to avoid industry marketing jargon at Franking Sense® because we like to keep things straightforward.
So, in our book, a printer is a printer. A printer prints documents. It doesn't do anything else. If all you want to do is print, you need a desktop printer! - either SoHo or business category.
Printers from web or retail outlets tend to have low yield ink cartridges that increase the cost per page cost. Business printers have high yield cartridges that allow for them to be included in our managed service fixed cost per copy billing program. With home printers for lower volumes, you simply purchase toners when required (Toner out). But be careful as when volumes rise this can be very expensive.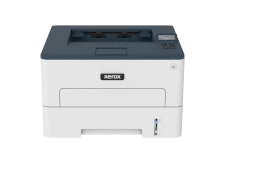 Also, life expectancy of SoHo printers is shorter than enterprise class devices so it can be false economy buying cheap small printers as we have all found out over time. It's all about volume and environment in the decision making process!!
A single device that allows you to print, copy, scan and fax is traditionally known as a photocopier.
You hear them called MFDs (Multi-Function Devices), MFPs (Multi-Function Printers) or Workplace Assistants but to us, for simplicity, we call them photocopiers - or copiers for short.
All of our photocopiers will allow you to print, copy & scan documents as standard and are completely configurable to your specific document production requirements.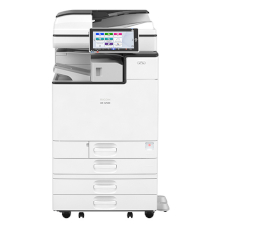 To recap – if you just want to print, then you're looking for printers. Anything else and you're looking for photocopiers.
What size paper do you print on?
As a rule of thumb:
Photocopiers print both A3 and A4;
Printers print on A4.
There's a common misconception that all photocopiers have to come with an A3 tray. Market trends have forced copier manufacturers to redesign their copier ranges and create devices for all applications. Many businesses rarely copy or print A3, yet they can be paying for multiple photocopiers with an A3 tray. If you rarely use A3 paper, then we will recommend a mixed fleet of A4 and A3 copiers to reduce costs. It's that simple and the main reason why we would recommend an informal site visit to help design a new solution for you .
There are also printers such as those used for architect drawings, site plans etc. that print on A0 size paper. We refer to these as wide format printers.
Do you print in colour or black & white (mono)?
If you print and copy in colour, you need a colour printer or copier.
If you only ever print and copy in black and white (mono), you need a mono printer or copier.
Again we can show savings on a printer fleet by being creative in selecting the correct printer for the department. Selecting the correct printer for each department can significantly reduce ongoing support costs that can become expensive if not managed properly.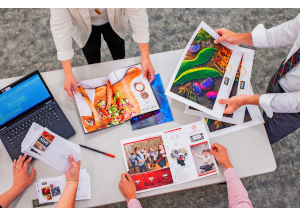 How much do you print & copy?
Considering the volume of printing and copying you are going to be asking your photocopiers and printers to handle is very important.
Each copier and printer has been designed to handle a certain volume of printing, copying and scanning at its optimum performance - this is called a recommended 'duty cycle' or recommended monthly usage. So, whilst opting for a small office printer may be a relatively inexpensive option compared to buying an enterprise printer or photocopier, asking it to print volumes of printing above its recommended usage is a false economy as doing so will incur expensive running costs (toner/ink) and eventually lead to frequent machine breakdown and the need to replace it every few years.
Speed of printing also becomes a consideration in relation to the volume of print a business produces. Copier and printer speeds are measured in the number of Pages per Minute (PPM) a copier or printer produces. A copier or printer produces either 20, 30 or 40 PPM all the way up to 120 PPM for high volume invoicing runs. Generally there is a commensurate increase in cost with the increase in speed. So, for medium and high volume printing environments and busy offices, you'll need to take speed into account so as to avoid a queue of employees standing around the photocopier waiting for documents to appear. In lower volume environments, speed is less of a factor. We will calculate the optimum PPM required for your specific printing volumes. An equally important consideration is the first page out or print speed time as the first print is always the slow one. So if you do a lot of one-off printing, a low first print speed could save a lot of frustration.
Do you need a finisher for your photocopier?
If you need to create booklets, brochures or stapled documents as your final print output, you'll need a piece of hardware called a finisher as part of your photocopier solution.
Ranging from simple internal staple finishers and hole punch finishers to state–of-the-art external professional booklet maker finishers, we can advise you on the right solution for however you wish to produce your documents. Copier finishers can deliver a completed document or brochure in exactly the way you would want it from an external commercial printer.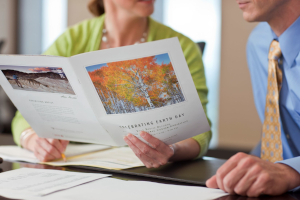 What about software?
Business copiers can be integrated with various software's that can be accessed through the user interface screen (UI). Linking the copier to your systems so you can seamlessly scan documents into your other applications is a great way to streamline your digitisation program and make the copier workstation the hub of office life.
Our best-in-class suite of print management software helps you to minimise waste and reduce your print costs by up to 50% while providing a secure and easy printing and scanning experience from any device.
To make things super simple, this software is now available as a cloud-based, server-less solution which is ideal for SMBs and schools. For multiple copier installations, we highly recommend print management software.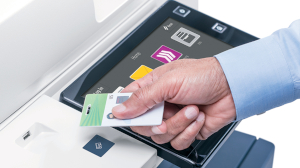 All our softwares are installed and managed remotely by our professional services support team.
Replacing your toner - Toner out or metered billing?
This is all about how you get your printer and copier toner replacements.
'Toner out' means that every time your toner runs low, you need to buy another toner. This set-up is most prevalent with smaller home or home office printers typically purchased from high street outlets or retail suppliers.
'Metered billing' is used for professional and office printers and copiers. With metered billing, you pay a small service charge for every page you print; when your toner runs low, we simply send you a replacement toner as part of your service package. What's more, your service charge also covers you for machine faults and breakdowns.
All of our photocopiers and printers come with metered billing, providing:
Peace of mind that your photocopier or printer is covered should it develop a fault;
Cheaper running costs (metered billing is cheaper per page than purchasing individual toners);
Convenience (never run out of toner again).
Purchase or lease?
So should you purchase your printers and photocopiers or lease them? With Franking Sense® the choice is yours. You can purchase copiers and printers or you can spread the cost of ownership with a flexible lease, provided by our sister company, Nationwide Capital Finance limited. Generally speaking, smaller devices on a toner out contract would be purchased and metered toner devices would be supplied on a 3 or 5 year lease with service costs collected quarterly either by invoice or direct debit.
In either case we will provide a fully comprehensive service agreement to support your equipment backed by our UK–based customer service desk and our nationwide network of in-house, field-based Master Technicians.
Checklist
Printers, photocopiers or both?
A3 or A4?
Colour or mono?
How much are you going to print?
Do you need a finisher?
Would you like print management software?
Do you want the device integrated into your current applications?
Metered or Toner out?
Lease or Purchase?
Let Franking Sense® help you make the right decisions on photocopiers and printers.
Book a no obligation review to discuss your current copier and printer environment today!