Print Management Software
Our best-in-class print management software helps you to minimise waste and reduce your print costs by up to 50% while having a secure and easy printing experience from any brand, any device, any time.
Now available as a cloud-based, server-less print management solution ideal for SMBs and schools!
PaperCut, the flexible print management software, helps to improve your network printing efficiencies, reduce your print costs and printer waste and enables you to understand and manage how much printers are used, by who and when.
Our Papercut portfolio comprises:
- Papercut MF - On premise print management software for up to 500 users;
- Papercut Hive - Server-less print management for up to 25 users;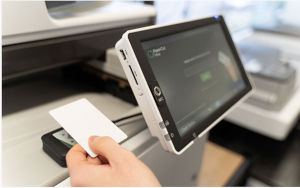 PaperCut in a nutshell
From silently tracking printer usage by individual, group, office or department, to reporting usage costs, budgeting, and environmental impacts, PaperCut lets you easily and efficiently monitor and control your organisation's printing resources.
Track printing
PaperCut's core purpose is to track all printing in a network environment, maintaining detailed print logs for all user printing activity. PaperCut can report not just overall printing volumes, but also volume by printer, printer group/department or individual user, assisting in decisions around allocation of the most efficient printer resources or purchasing new equipment.
Save paper
PaperCut's print control software makes it easy to monitor paper usage across all departments. Implementing PaperCut print policy rules, including routing large jobs to the most cost effective printers or setting print quotas to encourage responsible use can return paper savings of up to 50%.
Environmental benefits
The less paper you use, the more money you save and the better it is for the environment
Papercut MF - On premise print management software for up to 500 users
Papercut Hive - Server-less Cloud print management for up to 25 users. Ideal for SMBs & schools
Papercut Hive is a cloud based, server-less print management solution. With Papercut Hive, there is no need to host and manage an IT solution locally. Print jobs are encrypted and securely passed through the infrastructure and crucially, the IT Manager does not need to request additional financial support to build an on-premise system.
Key Features:
• Server-less sign up via web browser;
• Secure print release with ID card;
• Mobile touch free print release with app;
• Data security with access control, secure release & water marking;
• Print, Copy & Scan tracking;
• Print job reminders to minimise waste i.e. duplex/grey-scale;
• Guess printing from any device i.e. Phone, Tablet, PC;
• Built for most Printer & MFP brands.
Key Benefits:
• Print without technical complexities & big IT departments;
• Visibility of print behaviour to reduce wastage;
• Avoid print jobs going in the bin by enabling Secure Print Release;
• Adopt sustainable habits with less paper and less toner used;
• Quickly enable visitors or guests to print from any device;
• Documents remain local and encrypted;
• All print activity can be reported on when needed.
Why choose
Franking Sense?
Cutting-edge technology
Financial strength
Independent advice
Traditional values