Conveniently protect your organisation's sensitive data from loss or theft with a shredder
If you currently use a third party industrial shredder to dispose of your company's sensitive data, are you 100% sure that your material is safeguarded? Are you confident that protection from misplacement, loss or theft is guaranteed?
With our range of high quality shredders, you can destroy your sensitive data in-house, giving you total control of how and when your organisation's documentation is destroyed, recycled or disposed of. What's more, you can have all the convenience, increased efficiency and higher security of in-house shredding at a lower cost than outsourcing.
Our shredder solutions are designed to meet any size of organisation, - no matter what type of operation you are running.
Our AutoMax™ shredders have a fully Walk-Away shredding capability to make shredding even more convenient and less time consuming thanks to their auto feed technologies that shred stacks of papers, including glossy, double-sided and colour printed, folded and even crumpled paper as they are - no pulling out staples, paper clips or even smoothing wrinkled papers.
Key features
Surefeed™ Technology and Accufeed™ System provide automatic paper shredding for maximum productivity.
Jam Guard™ Paper Shredding System prevents shredding interruptions for jam free operation
SmartLock™ automatically locks the paper drawer when shredding to prevent access to paper whilst in use.
SilentShred™ offers ultra-quiet shredder performance for shared work spaces
Energy saving Sleep Mode feature shuts down the shredder after 2 minutes of inactivity
Innovative touch screen technology with Back-lit LEDs
Franking Sense has been appointed by Fellowes as its sole UK National Service provider.
The appointment means that Franking Sense will be the only company in the UK authorized to carry out warranty repairs on all of global office products manufacturer Fellowes' business shredders in the UK.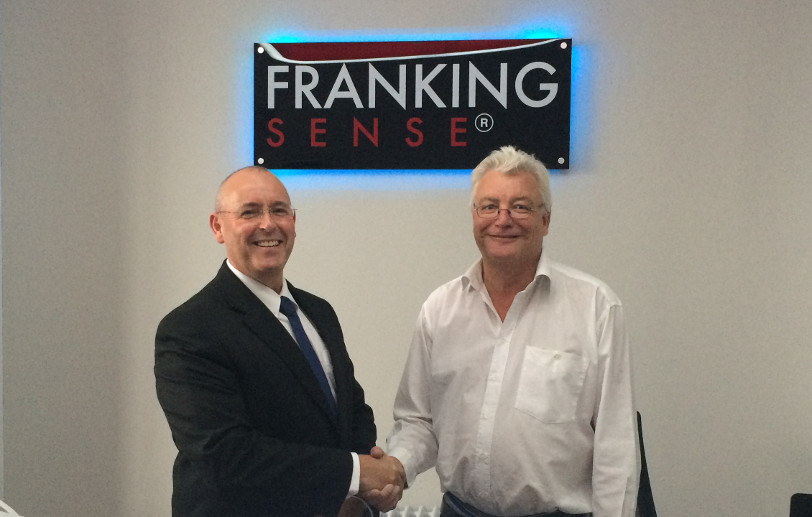 Franking Sense uses a different business model than we had experienced before, where repairs were done in a workshop and not on site at the consumer.
We had no hesitation in appointing Franking Sense as our sole UK Service Partner, carrying out both in warranty and out of warranty repairs. Repairs are now completed as expected and our customer satisfaction ratings are at 100%. I am confident NFS will bring the service Fellowes wants for its consumers."
Johan Brondijk, Quality and Technical After Sales Manager Europe, Fellowes
Why choose
Franking Sense?
Cutting-edge technology
Financial strength
Independent advice
Traditional values