Reduce your energy bills, maximise operational efficiency and increase reliability with one simple sustainable switch
A recent IDC international study ranked the key business priorities for global CIOs as follows:
Operational efficiency
Sustainability
Commercial (cost) considerations
Franking Sense® is delighted to introduce to its market-leading range printers and copiers from Epson; Heat-Free printers, the most sustainable office inkjet printers and copiers on the planet!

As an ISO 14001 accredited company for our Environmental Management System, sustainability is at the heart of everything we do. So our recent appointment as an Epson Gold Solution+ partner made perfect sense, allowing us to bring Epson's latest sustainable innovations in printing technology to our customers.
Did you know?
As much as 10% of a company's energy costs can result directly from printers and copiers. Traditional printer and copier technology like laser printing, has proven to be energy-intensive and, particularly in the current climate, costly. However, Epson offer a game-changing solution - Heat-Free Printing offers a sustainable and cost-efficient alternative, combining sustainability with tangible cost reduction and no compromise to operational efficiency. Here's why we think you should consider switching your current printer and copier fleet to the Epson Heat-Free range:
Epson's Heat-Free Printing Technology benefits:
Reduced Energy Use/Costs
Improved Productivity & Operational Efficiency
Increased Reliability
ESG compatible
Reduce Your Carbon Footprint, Reduce Your Energy Bills
Laser printers rely heavily on heat to fuse toner onto paper, typically heating to 200° C to effectively melt the toner onto the paper. This process demands substantial electricity consumption and contributes to increased CO2 and VOC (Volatile Organic Compound) emissions. However, Epson's Heat-Free Printing Technology has turned this notion on its head. These printers drastically reduce power consumption by 80-90%, slashing energy bills and your environmental impact by eliminating the need for heat during the ink ejection process.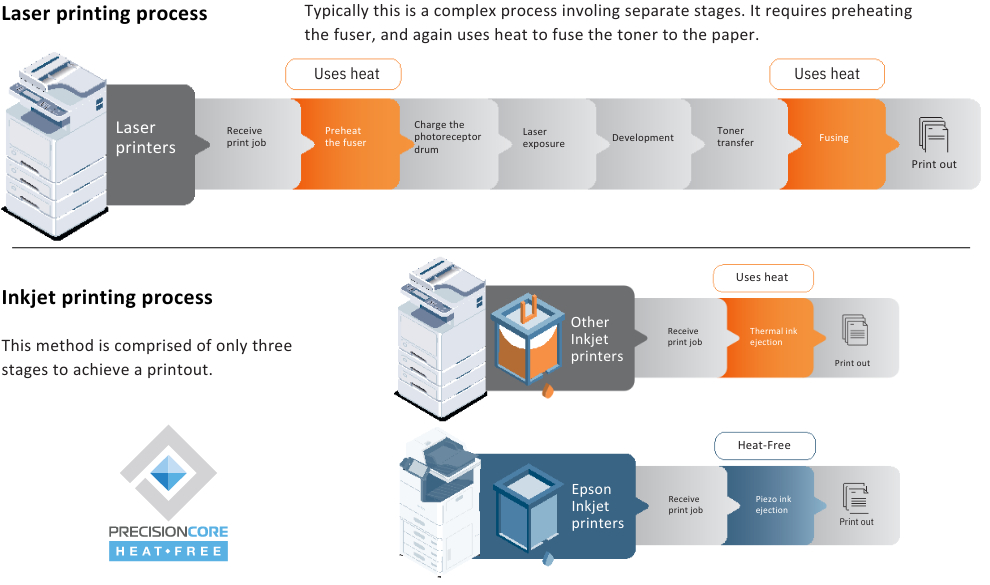 Improve Productivity & Operational Efficiency
Epson's Heat-Free Printing Technology operates with unmatched efficiency. Unlike conventional laser printers that require warm-up time before printing, Epson's inkjets start instantaneously. So the first page out time is reduced dramatically. No more wasting time waiting by the copier for the first page to appear! This time-saving feature enables businesses and individuals to boost productivity.
Increase Reliability, Reduce Maintenance Costs
Traditional laser printers necessitate frequent replacement of consumables like drums, transfer belts, and fusers, generating additional cost and waste. In contrast, Epson's Heat-Free Printing Technology uses fewer moving parts and eliminates the need for heat, which reduces heat-related stress and wear and tear on printing equipment, extending the lifespan of your printers, and reducing downtime and maintenance costs. This means your business can enjoy more uptime and increased productivity, ultimately improving efficiency and providing a better user experience.
Switching and Saving is Easy!
Epson's Heat-Free Printing Technology presents a powerful opportunity for businesses to significantly reduce energy consumption and costs associated with printing activities without compromising operational efficiency. All while working towards your company's carbon reduction targets.
Join the growing number of businesses that have embraced this responsible and sustainable printing solution.
Don't worry if you already have a contract elsewhere for a more costly printing solution. We can help you to settle your existing contract and make the switch to Heat-Free without any hassle.
Contact Franking Sense® today to find out more.
More about Epson Heat-Free printers
IDC EMEA CIO Summit Poll, France, October 2022