Despite UK inflation currently running above 5%, Royal Mail has frozen the cost of sending standard mail and parcels via a franking machine in their latest round of price changes which came into effect on January 4th 2022.
This price freeze is great news for businesses sending post via a Royal Mail Mailmark franking machine, which remains the most cost-effective and efficient method of sending business post in mainland UK.
Volume related discounts for bulk mailing available through a franking machine under Royal Mail's Business Mail Advanced tariff did see a slight increase, although savings of up to 25% are still available when sending over 250 letters of the same type at the same time.
Royal Mail franking and stamp prices from 4th January 2022 are as follows: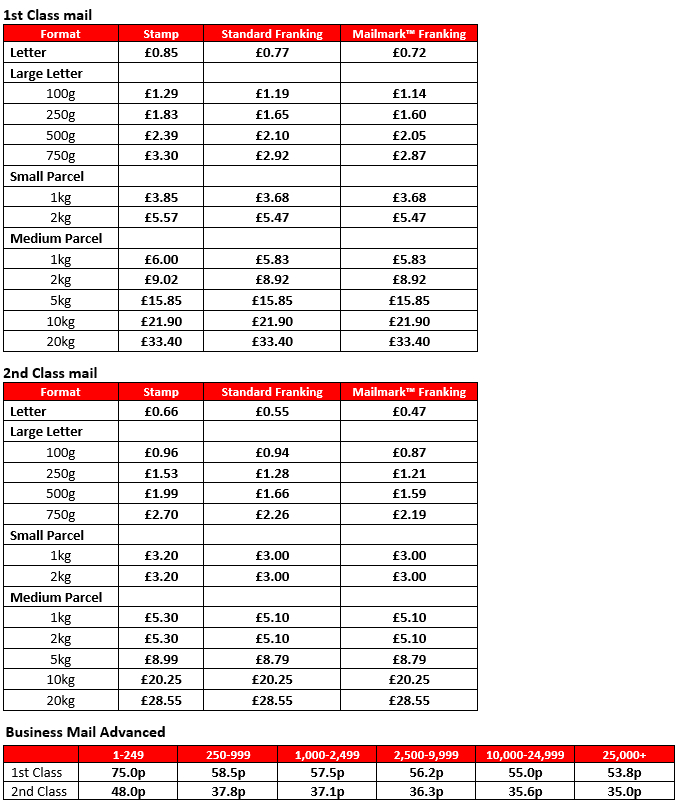 For more information about Business Mail Advanced volume related discounts via your franking machine, see our Business Mail Advanced guide.
Royal Mail franking machine and stamp price charts
Full details of all post, parcel and franked mail prices can be found by clicking the links below to the relevant Royal Mail wallcharts.
Royal Mail Mailmark franking prices
Royal Mail standard franking prices
Royal Mail business mail prices