Up to 46% discount on mail pricing when you use a franking machine
Changes to Royal Mail franking machine post and stamp prices effective April 4 2022 have seen letter prices increase slightly, while the cost of sending small and medium parcels right up to 20kg via a franking machine has been reduced significantly.
Franked mail continues to be a fantastic option for businesses as we continue to see big discounts against other options. The large discount available moving from first class mail to second class Mailmark™, which is our suggested option, is as much as 46%.
The increased discount for Mailmark™ franking users against standard (non-Mailmark™) franking machine users (up to 33p per letter) will also provide a financial incentive for standard franking machine users migrating to Mailmark™ when Royal Mail's decertification of standard franking machines comes into force at the end of this year. A standard franking machine user sending as little as 10 letters per day will make savings up to £840 per year on their postage costs by moving to Mailmark™ whereas moving back to stamps from standard franking would cost up to an additional £1,000 per year.
This all represents a great opportunity for the SME sector to control costs and engage with their customers in different ways.
Mailmark™ franking represents one of the lowest pricing options to connect and make a physical impact with your customers. As suggested in a recent survey for Royal Mail, physical mail has got stronger on all the things we knew it to be good at. The average item of mail is interacted with 4.51 times and reach is up 4%. Both metrics are at their highest level ever. Physical mail has shown its value in driving online traffic, with a 70% YOY increase and engagement with mail higher than ever at 96%. Interestingly it's not just older age-groups that are responding more to mail; the biggest rise in engagement with mail came from people aged 18 to 32 – potentially because of the relative novelty of receiving post. Mail is continuing to prove its effectiveness as patterns of working and living have shifted. Franked mail consistently proves to be valuable if not the best option to make an impact and reach customers.
Summary of the Royal Mail price changes for stamps and franking machines from April 4th 2022:
Stamp prices
1st Class letter + 10p to 95p
2nd Class letter + 2p to 68p
Standard franking prices
1st Class letter + 7p to 84p
2nd Class letter + 5p to 60p
Mailmark™ franking prices
1st Class letter + 6p to 78p
2nd Class letter + 4p to 51p
Cost saving Mailmark™ franking machine v stamps
1st Class letter: 18%
2nd Class letters: 25%
Cost saving Mailmark™ franking machine v standard franking machine
1st Class letter: 7%
2nd Class letter: 15%
Franking machine parcel prices
Small parcel (2nd Class)
Up to 2kg: -15p to £2.85
Medium parcel (2nd Class)
Up to
2kg: -75p to £4.35
5kg: -£2.84 to £5.95
10kg: -£14.30 to £5.95
20kg: -£19.10 to £9.45
Royal Mail franking and stamp prices from April 4 2022: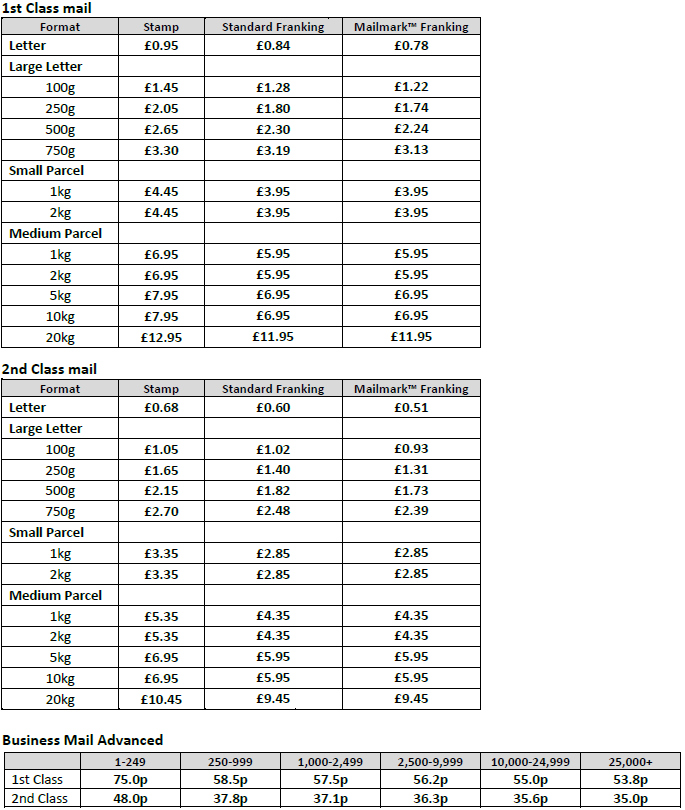 For more information about Business Mail Advanced volume related discounts via your franking machine, see our Business Mail Advanced guide.
Royal Mail franking machine and stamp price charts
Full details of all the very latest post, parcel and franked mail prices can be found by clicking the links below to the relevant Royal Mail wallcharts.
Royal Mail Mailmark franking prices April 2022
Royal Mail standard franking prices April 2022
Royal Mail stamp prices April 2022
Royal Mail business mail prices April 2022