Our partner Xerox has recently received the ENERGY STAR® Partner of the Year award for 2021, the U.S. Department of Energy's most prestigious award. This award recognises, along with its company-wide sustainability and environmental best practices, the superior energy management in the latest range of Xerox photocopiers and printers.
Xerox's long-running Design for Sustainability initiative aims to help to make the world a more sustainable place and their commitment to meeting their sustainability goals with their office technology led them to redesign the power supply on certain models of new photocopiers and printers to optimise energy savings.
This resulted in a reduction in energy consumption in their range of printers of 14%.
Their latest AltaLink C8100/B8100 series of A3 multi-function printers achieved an impressive 15% reduction.
To date over 500 Xerox copiers and printers have achieved ENERGY STAR® registration and the company continues to strive to achieve 100% eligibility for its new products, something it has achieved every year since 2010.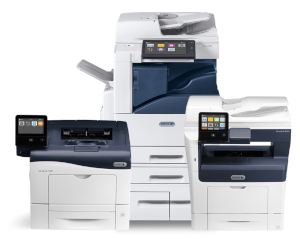 As a Xerox Gold Partner, this dovetails into Franking Sense®'s policy of operating and being certified to the international Environmental Management System ISO14001. We monitor environmental performance through more efficient use of resources and waste reduction. Therefore we are extremely proud to supply Xerox photocopiers and printers that are acclaimed and certified so highly for their environmental and sustainability credentials. The ENERGY STAR® award shows that Xerox copiers and printers are clearly leading the way in creating sustainable technology.
View our Xerox photocopiers & printers.