Royal Mail's recent research on the effects of the global pandemic has highlighted the genuine importance of physical mail and how its effectiveness is now even more significant than ever before for businesses.
The Royal Mail research, which culminated in the report, Mail Matters More Than Ever, was set up to look at the impacts that the effects of the pandemic have had on business communication and especially attitudes towards physical mail, whilst the world focusses on parcels and we get used to receiving physical items by hand to the door. It follows that marketeers can leverage this to create impact and reaction from customers by using the mail service and utilising the natural authority a physical mail piece commands. The immediacy of sending 10,000 emails is seductive, as it is easy to manage and, with tracking tools, can give marketing departments good analytics. But surely the real test is the ROI and conversions to invoicing, not how may opens & clicks? Adding the mail piece back into the marketing mix could freshen up engagement levels and really connect intimately with prospects in a way that digital just can't. We argue the death of the mail piece is greatly exaggerated.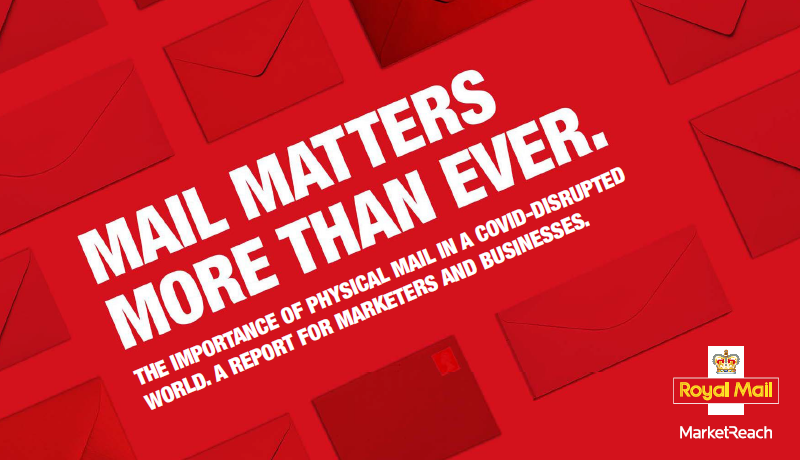 The move to digital
The research found that, since March 2020, when the business landscape dramatically shifted, the most obvious change for businesses has been 'the digitisation of everything.' For example, video conferencing has increased along with a significant reduction in cash transactions.
Many firms have put budgets under close scrutiny and pressures have come to divert to the use of more digital channels where returns are perceived as more instant and more measurable.
The need for tangible interaction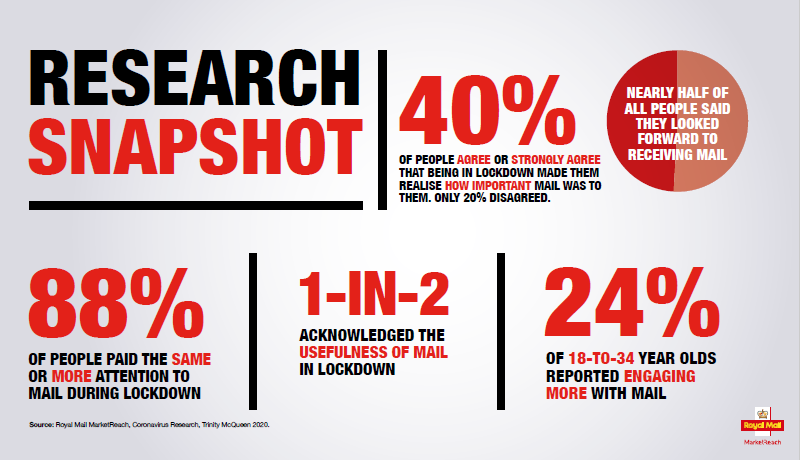 However, digital channels may not necessarily be the long-term panacea many companies believe them to be, despite the allure of the short-term ROI they may offer. Royal Mail's report shows that 40% of people are suffering 'digital burnout' and consumers are craving tangible and human interaction.
And that's where the tangible, personal and familiar nature of physical mail comes into its own. In a time where communication is largely fleeting and transient, physical mail literally offers something to hold on to. The research showed that physical mail is enhancing its effectiveness as people respond to physical mail's ability to engage people and drive behaviour. There is compelling evidence that a high quality mail piece delivered to the correct recipient, personalised with a strong relevant creative has a very strong if not stronger engagement profile than other channels. Our message is clear - don't forget about direct mail. It's Physical, Impactful and Emotional. Mail really Matters.
The effectiveness of physical mail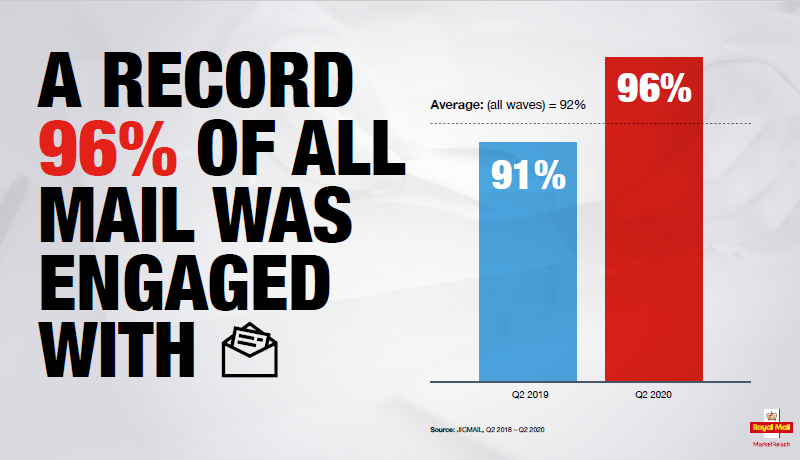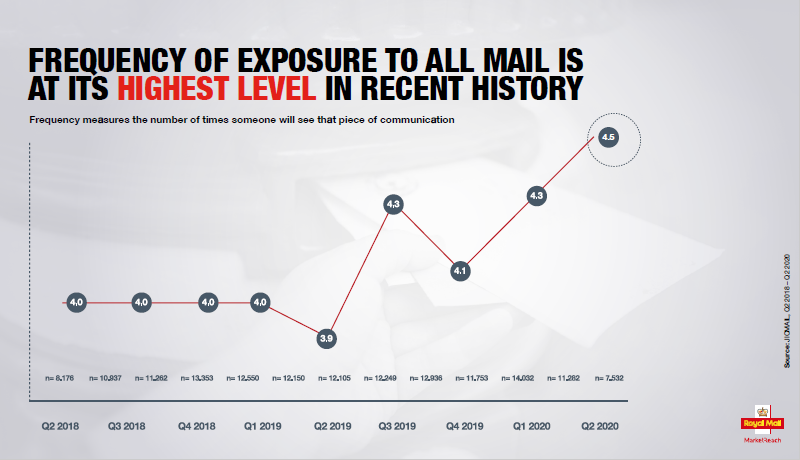 Key points to take away from the Royal Mail report with regards to physical mail are:
Mail has got significantly stronger on all the historical things mail was good at. The report concluded that the average item of mail is interacted with 4.5 times and reach is up 4%. This represents the highest levels of both of these metrics ever;
As a digital tool, physical mail is driving online traffic with a year on year increase of 70%;
Engagement with physical mail is at its highest ever level of 96%;
Whilst response to mail is something that is normally associated with the older age group, the biggest rise in engagement is among the 18-34 age bracket, a demographic Royal Mail reports to have embraced the novelty of receiving physical mail.
Mail is remembered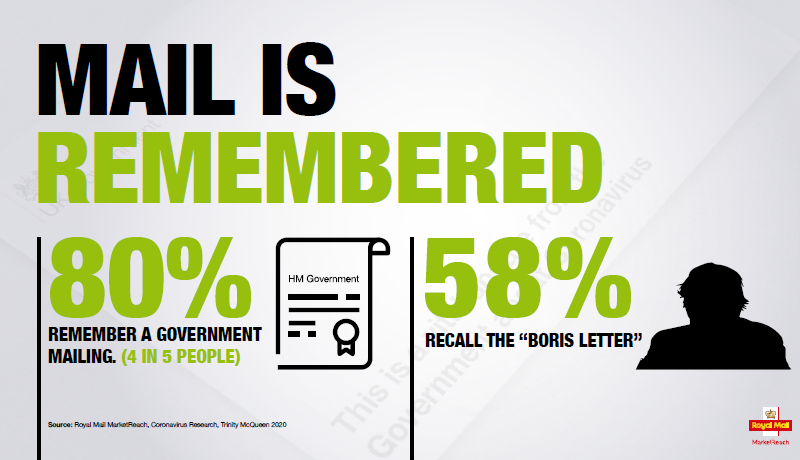 It is clear that mail is becoming more sophisticated, not less. That's why physical mail's resurgence has seen it once again become a significant part of many businesses' marketing mix. It seems highly likely that, as more people continue to work remotely, physical mail's ability to reach and engage recipients will offer massive opportunities to marketers everywhere.
As a trusted and highly valued medium, physical mail can be a driver to both immediate response and longer term reinforcement of key messages. As Royal Mail reports:
50% of respondents acknowledged the usefulness of mail as a reminder to do something;
88% of respondents paid more attention to mail during the lockdown.
Physical mail's role in the customer journey
According to Royal Mail's report, physical mail can be strategically integrated into the customer journey where it can work alongside other channels to deliver maximum value.

From an acquisition perspective, mail gets your brand into people's hands - it is a tangible acquisition media which is believed, remembered and trusted. It is also a very personal method of communication, whose ability to build a relationship with its recipient drives people to buy from it.

The personal nature of physical mail also makes it a powerful tool for building a relationship between your brand and your customer. It allows you to influence the decision to spend more or offer more of your products or services. Mail also promotes advocacy because it gets passed on, shared and talked about. Finally, physical mail makes your customers feel valued and valued customers are more likely to stay and buy again and again.
Physical mail v e-mail
It is clear that mail and email work on different levels. However, physical mail and e-mail can work in ways that complement each other.
While e-mail is ideal for delivering short impact messages and lifespan, physical mail has longer lasting impact and helps build a positive relationship between your customer and your brand.
In summary:
E-mail:
Quick;
Informal;
Easy to respond to;
Good for follow up.
Physical mail:
Grabs attention;
Makes recipient feel valued;
Considered and informative;
Gives a better impression.
Royal Mail research that Mail Matters in numbers
40% of people surveyed agree or strongly agree that lockdown made them realise how important mail was to them;
Nearly half of all people said they looked forward to receiving mail;
88% of people paid the same or more attention to mail during the lockdown;
1 in 2 acknowledged the usefulness of mail in lockdown;
24% of 18 to 34 year olds reported engaging more with mail;
A record 96% of all mail was engaged with;
72% of people agreed that mail was the correct way for the government to communicate with;
63% said using mail showed that the government were taking the pandemic seriously;
80% remember a government mailing and 58% recall the "Boris Letter;"
Mail delivers positivity and trust as 44% said they looked forward to receiving mail during lockdown, with 2 in 5 also expressing that the period reaffirmed the importance of mail;
Royal Mail reported that the frequency of exposure to mail is at its highest level in recent history;
Royal Mail concludes that some of the trends that have been amplified by the Covid-19 pandemic will continue and these longer-term trends point towards the continued relevance of mail.
They state that 'in home' is going to be a big part of our future for a while yet, with increased remote working likely to be a reality for millions of people. As the shift to online shopping continues, businesses and brands will need to work harder than ever to reach out, stand out and feel part of people's lives.
It is for this reason that, in their words, "Mail has always mattered. It now matters more than ever."
For business users, there is a range of mail processing machines that make life easier more than ever before, starting with folding inserting machines, Royal Mail franking machines with discounted postage rates and software to track inbound replies and scan back data to complete the customer engagement journey. Adding promotional material has never been easier with production quality printers (printing gloss, gold, textured effects all in house). This full product suite is available from a single source:
Print | Process | Post from Franking Sense
Source material for this article: JICMAIL and Trinity McQueen research for Royal Mail. Royal Mail Matters More Than Ever.