Our Managed Print Service partnership with Xerox can help improve the way your business works
You already know that documents are the life-blood of your company.
But are you aware how they impact every area of your business, from productivity and sustainability right down to the bottom line?
When we ask our customers what they want to achieve, they tell us that they are looking for ways to reduce costs, become more environmentally aware, facilitate mobile and secure printing while continuing to automate processes and drive innovation. By helping our customers achieve these goals, productivity and efficiency increases, costs reduce and they are able to serve their customers better.
Franking Sense MPS powered by Xerox can help you achieve your goals
With our Managed Print Service offering in partnership with Xerox, we can help you analyse and understand your print, copy and document processing environment and help you to optimise the way documents are produced and work in your business. We use our powerful suite of best-in-class tools to turn your print data into actionable knowledge. Once we have this knowledge, we can:
Improve your resource usage through device optimization;
Reduce the environmental impact of printing;
Uncover hidden costs within equipment and business processes;
Provide an accurate multi-vendor total cost of ownership (TCO).
You may already know that Managed Print Service gives you visibility and control of your printing to help you save money and boost productivity. With Next Generation Managed Print Services, that's only the start. Our innovative approach is redefining the way Managed Print Services work. Here's how our MPS works and the benefits to you: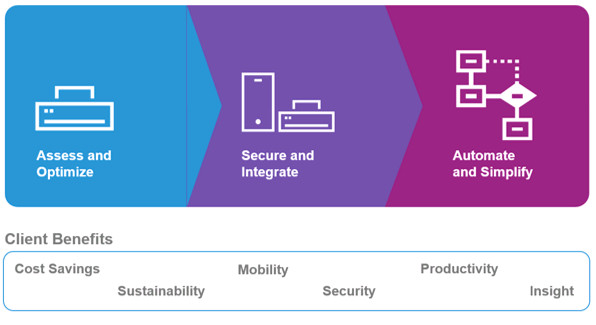 In short, we help you find the right solutions for your organisation, well beyond traditional MPS offerings.
Backed by a best-in-class product portfolio
Our partnership with Xerox gives us access to some of the most advanced multi-function printer, copier and document management technology on the market, ensuring our MPS proposition keeps you at the cutting-edge of print, copy and workflow solutions.

Our range of smart multi-function printers and copiers are built on ConnectKey® Technology so you can focus on your work and not the technology. With ConnectKey®, you can do much more than just print, scan, fax and copy. You can turn your multi-function printer into the centre of a complete productivity ecosystem, right out of the box.