Incoming Mail Tracking Software
The Complete Post Room Tracking System

Proof of delivery for your internal mail
Eliminate paper records
Remove mail handling disputes
Complete audit trail of each item collected/delivered
Collect signatures and photographs
OmniPost is a web based tracking system, which provides up to date, accurate proof of receipt and proof of delivery for virtually any mail item delivered to and leaving from your post room.
Omnipost can track documents or packages from the moment they are dropped off by the carrier to the point of delivery to the intended recipient.
Items are logged in, scanned to a location (recipient), a signature is captured and the web-based application is instantly updated to provide real-time status and future reporting.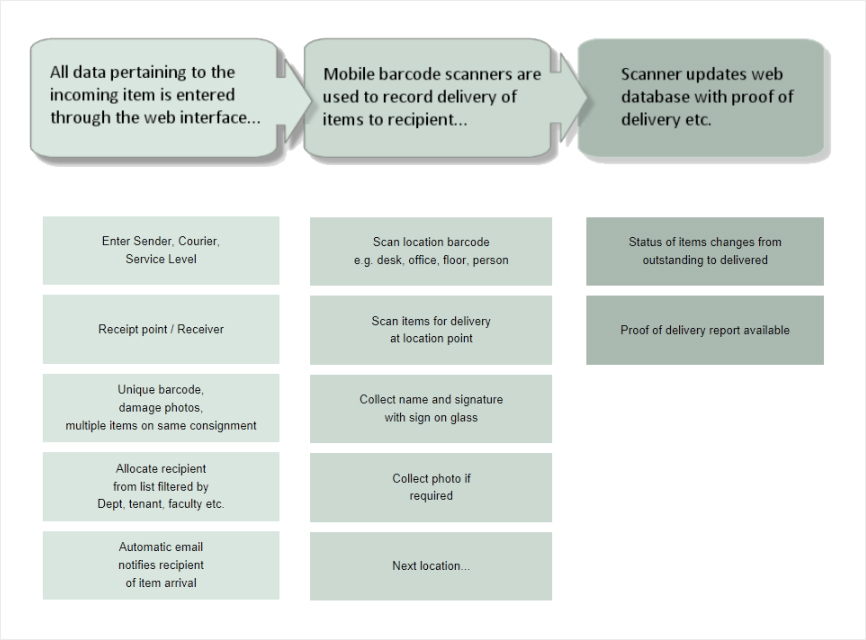 Benefits of OmniPost
For the mail room:
Eliminate disputes over mail handling.
On-screen signature capture provides proof of delivery
Absent signatory is not a problem as location barcode can be scanned proving attempt to deliver.
Each unique item is tracked by date and time stamping each movement for a full audit trail.
Take and add photos to items on receipt, removing accusation of damaging mail
Add documents and files to items, such as delivery invoice
E-mail automatically sent to the recipient giving them the option to collect or advising when it will be delivered
History of every item is saved in the database and can be reported on
Access the system from anywhere
For the company
Monitor productivity and performance
Understand how the post is used
Monitor use of post room for personal use
For the recipient
Confidence in the Mail Room
Save time chasing delivery as alerts are provided as soon as item arrives in the mail room.
Registers item damaged on arrival
Unique tracking reference to manage any queries
Transparency of date regarding time of parcel arrival/delivery
Accurate record of time item arrived for checking against service levels paid for